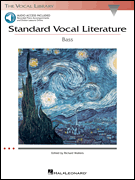 Standard Vocal Literature - Introduction to Repertoire Bass Book/CD
Manufacturer Part #:
  HL00740276HAL
Description:
This series of 5 book/audio packs is an introduction to art song in English, French, German, Italian and Spanish. Each volume has a different song list, and includes 30 selections in appropriate keys. Beyond art song, each collection includes two carefully chosen opera arias, an oratorio aria, and an operetta aria by Gilbert & Sullivan.
Table of Contents:
Meeres Stille
Linden Lea (Vaughan Williams)
Crucifixus from MESSA DI GLORIA (Puccini)
Le secret (Fauré)
Seule! (Fauré)
Meeres Stille (Schubert)
Vecchia zimarra, senti from LA BOHÈME (Puccini)
Plaisir d'amour (Martini)
Zueignung (Strauss)
Der Doppelgänger (Schubert)
Du bist wie eine Blume (Schumann)
In diesen heil'gen Hallen from DIE ZAUBERFLÖTE (Mozart)
Policeman's Song, The from THE PIRATES OF PENZANCE (Sullivan)
Abendempfindung (Mozart)
Fair, if you expect admiring (Campion)
If music be the food of love (First Version) (Purcell)
What If I Never Speed? (Dowland)
Asturiana (de Falla)
La mi sola, Laureola (Obradors)
Come away, death (Quilter)
NOW SLEEPS THE CRIMSON PETAL (QUILTER)
Weep you no more (Quilter)
Die beiden Grenadiere (Schumann)
Vagabond, The (Vaughan Williams)
Vaga luna, che inargenti (Bellini)
Sea, The (MacDowell)
We sing to Him (Purcell)
Bois épais (Lully)
Caldi sospiri (Rontani)
Perchè dolce, caro bene (Donaudy)
Vado ben spesso cangiando loco (Rosa)
Vecchia Zimarra, Senti
Crucifixus
Thou'rt Like A Lovely Flower (Du Bist Wie Eine Blume)
Linden Lea
Weep You No More, Op. 12, No. 1
The Vagabond
Fair, If You Expect Admiring
If Music Be The Food Of Love
Zueignung
The Sea
We Sing To Him
Seule!
Le Secret
Plaisir D'Amour
Thoughts At Eventide (Abendempfindung)
The Wraith (Der Doppelganger)
Now Sleeps The Crimson Petal
Come Away, Death
The Policeman's Song
The Two Grenadiers (Die Beiden Grenadiere)
What If I Never Speed
La Mi Sola Laureola
In Diesen Heil'gen Hallen (The Magic Flute)
Caldi Sospiri
Vado Ben Spesso Cangiando
Asturiana
Vaga Luna, Che Inargenti
Bois Epais (Sombre Woods)
Perche Dolce, Caro Bene
Zueignung (Op. 10, No. 1)
| | |
| --- | --- |
| Publisher: | Hal Leonard |
| Composer: | |
| Artist: | |
| Arranger: | Walters |
| Voicing: | Vocal | Piano |
| Level: | Bass |
| Catalog: | HL00740276HAL |
| Pages: | 128 |
| Genre: | Classical |
| Format: | Book | CD |
| Series: | Vocal Library |
---
Customer Reviews